Home Based Education offers the opportunity to set your own rate of pay, choose your own hours and work from your own home.
Make the shift to Home Based Education:
Take control of your work/life balance – set your own fees and hours!
Maximum child/educator ratio of 1:4
Nurture the children in your care and enjoy stronger connections with children and whānau
Create your own specialised learning programme based on your own passions and philosophy
Relish the fun, freedom and flexibility that being an Educator provides
Enjoy all the support of visiting teachers and the reputation of not-for-profit; Inspired Kindergartens Home Based Education –60+ years and counting!
Benefit from access to resources and equipment, as well as training, administration, payroll and marketing support.
Inspired Kindergartens Home Based Education are looking for passionate people who are wanting to make a positive change in their own professional lives, as well as the lives of children and families within their community.
If you are a passionate professional interested in taking the next step, we would love to discuss this opportunity with you.
Want to find out more?
Book an appointment with a member of our senior team, or contact us to find out more.
Top 4 reasons why our educators love working with us
1. Freedom for a fun day, every day

Having a maximum of four children in your care gives you the freedom to tailor the day's activities to suit the children's interests - from painting to attending a playgroup, to outdoor adventures. As a home based educator, it'll never be "just another day at the office."

2. Career fulfillment

Passionate about nurturing and caring for children? As an educator you'll have the opportunity to inspire and encourage the growth of young tamariki/ children. If making their early years count is close to your heart, we expect you'll find your job satisfaction in early childhood education.

Working with us you'll gain access to expert professional development and the opportunity to expand your career horizons. Formal early childhood education (ECE) qualifications are not currently required for home based educators, however we provide support, assistance and tons of encouragement for those educators who wish to step into tertiary study.

3. Support & learning development

As an educator, you'll enjoy the support of a dedicated, qualified visiting teacher/kaiako. Your kaiako will mentor you as you navigate new pathways in early childhood education, as guided by Te Whariki; the New Zealand Early Childhood Curriculum.

You'll have access to a range of benefits including professional development, resources, shared regular outings and play groups. Join a large professional team who will support and encourage you.

4. Financial flexibility

Enjoy the flexibility of a role that works for you and your family. While we'll provide guidance on what hours and rates are most popular, as a contractor you'll have the flexibility to select the hours and rates that work for you.

Work from home within your children's school hours (20 hours) and earn an average of $600 per week. Or maximize your earning potential with longer, or multi-session days (40 hours) and earn as much as $1,200 per week.

Did you know? Home based educators also receive a special tax allowance, essentially resulting in a very low tax rate and enhancing your overall after-tax income.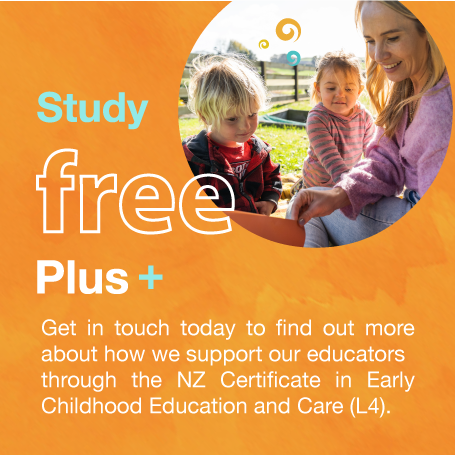 What's required?
First and most importantly, you need a love of children!
A passion for nurturing and caring for children
A NZ Certificate in Early Childhood Education and Care Level 4 or the desire to gain this qualification (FREE study and support)
New Zealand citizenship or hold a working holiday visa
A first aid certificate
Satisfactory police and reference checks
A safe and clean home to work from

Home Based Educator Information Guide

For an overview of all you need to know about
becoming an Educator.